Ukraine is not a very rich country but its a country worth seeing (plus Canadians do not need a visa to get there unlike Russia where visa will cost you dearly over 400$ for one time).
Ukraine is an old country and it was always conquered either by Tatars, Mongols, Romans, Hungarians, Austrians and finally by Russians. It was really not that long of independent and hence the culture has a huge influence of other countries.
Kiev or Kyiv (more Ukrainian pronunciation) is a capital of Ukraine and if you fly from Europe or America the easiest way to get to Ukraine. Ukraine has a very good train system so if you plan to travel within the country train is probably cheaper and getting to the train station is also easier (Borispil airport is some way from Kyiv however main train station is easily accessible by public transport).
Public transport = cheap way to get around the city. Works. Cheap. Pay inside the bus or trolleybus and its like 5 Grivnia. BTW, you can exchange money from US $ or Euro literally on every corner (just keep in mind the regular hours of 9-5 during the day). Exchange rates vary from place to place but its a fast service.
Taxi – pretty safe. At least I think so. I would still prefer public transport.
Now, after you settled – the center of the city literally lives 24 x 7 albeit sometimes its more crowded and sometimes less. Do not get scared by Ukrainian police or guardia – they do care for your safety. While pick pocketing is normal so keep your valuables safe, it is not very risky to go see the city after its dark.
We stayed walking distance to Khreschetik, the main street in Kiev, and we walked there thru Bogdan Khmelnytzky square which as a gorgeous Sofia church as well as a monument to Bogdan (which is supposed to show his weapon towards Moscow but actually does not)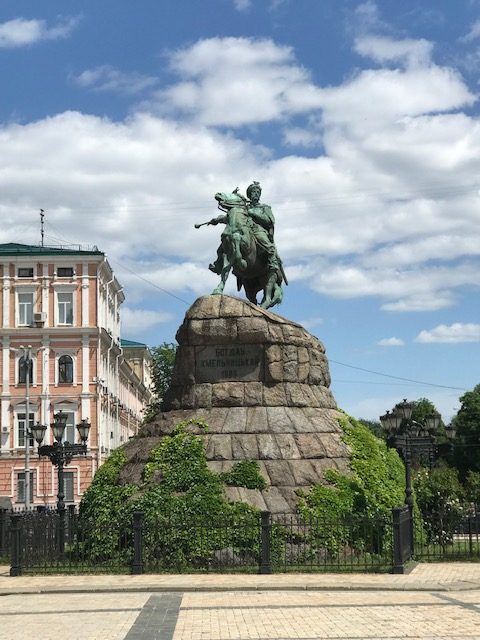 The Sofia church has a bell and you can go up the stairs for the gorgeous view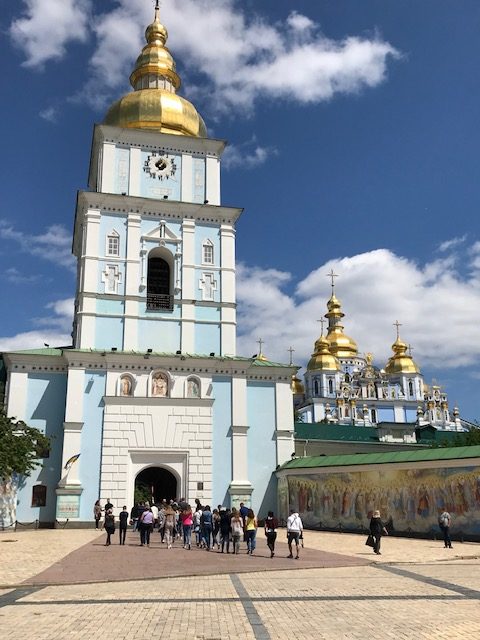 Short walk down the street you get to Khreschtyk – main street of Kyiv, very often it can be closed to car traffic however always open for pedestrians. It has a huge square with a fountain and lots of large Soviet Era buildings around the square.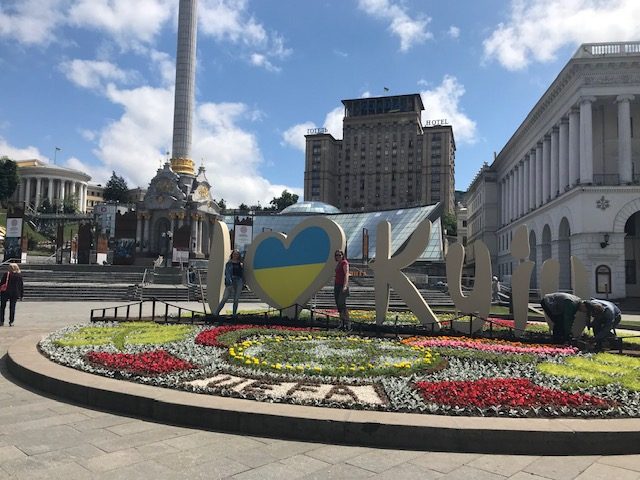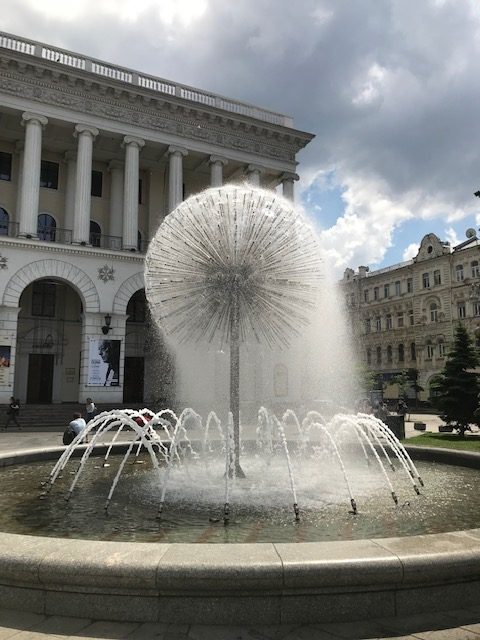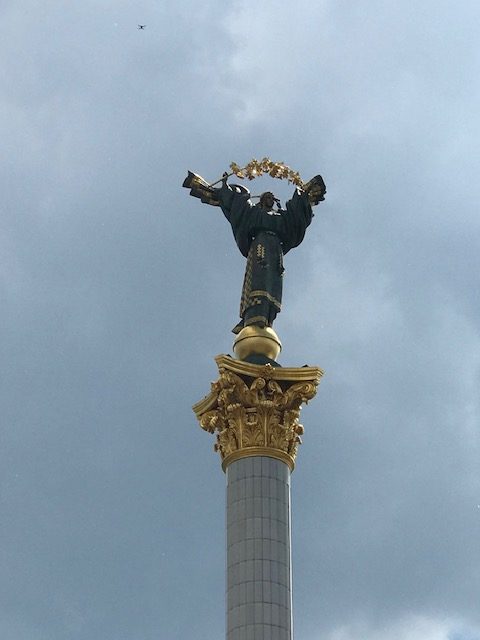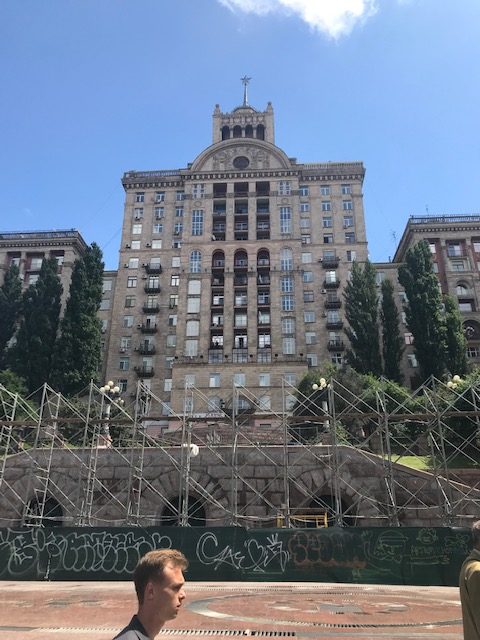 Another great place to visit is Kyiv Opera house (which often has performances with Ukrainian cultural songs) – gorgeous building inside and out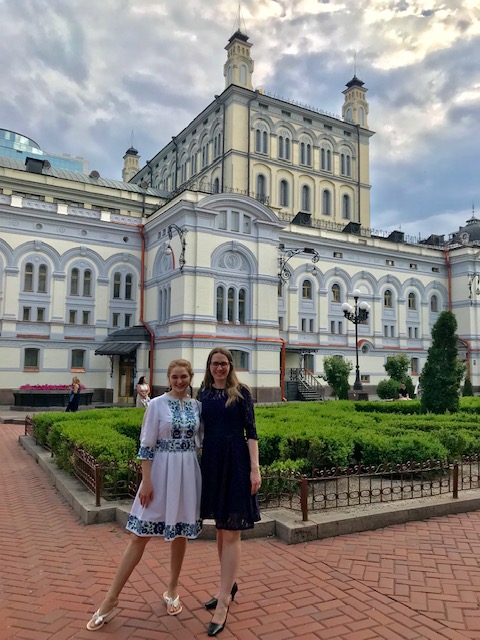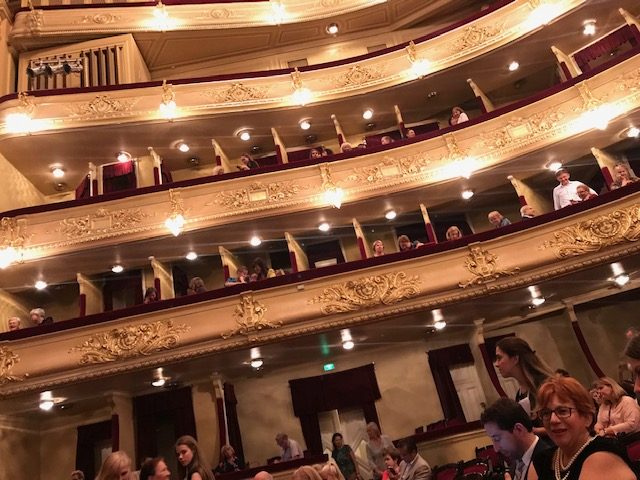 Highlight of our trip was visit of Lavra Monastery. When I lived in Kyiv, it was closed to public (not sure if they thought it will populate our minds with herecy or just did not want to have public inside) – but now its open in all its glory. We actually took a tour (you can also get an English tour but it will cost you 10 x more than Ukrainian or Russian, in our case I translated) – the tour is worth the money. At the end you have an option to visit real caves and see mummies of the monks (we did) Be aware, very often in Ukraine to enter the church women have to cover the heads. usually someone sells the covers but any kind of scarf will do. For the monastery we needed to also cover our legs!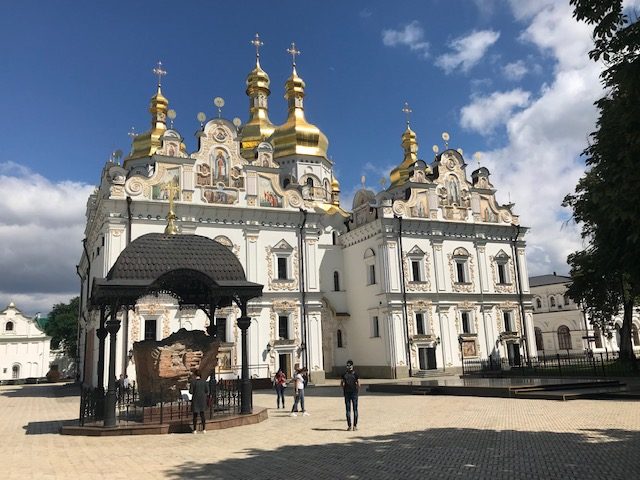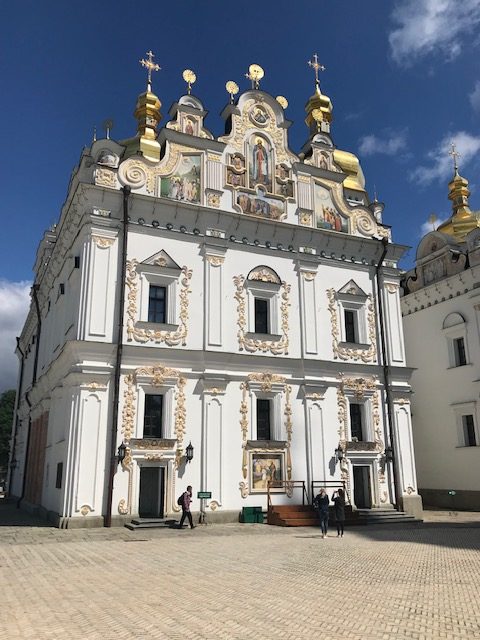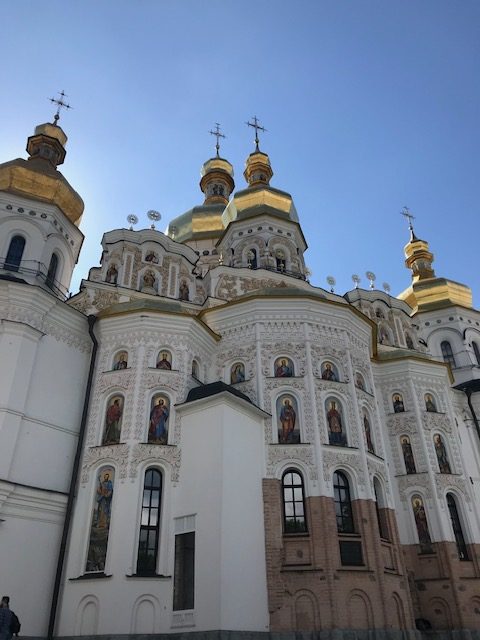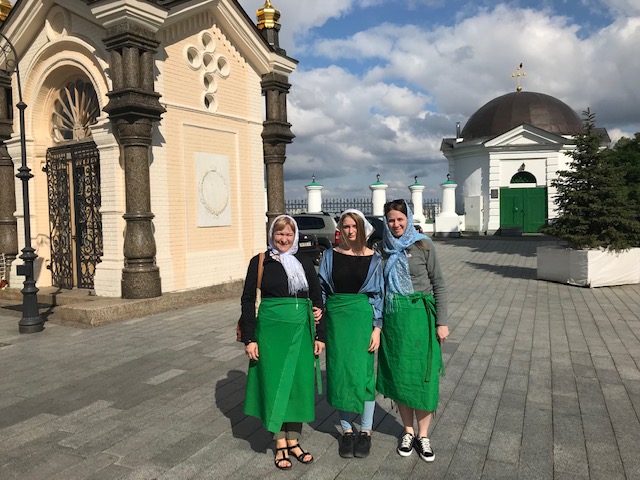 Food – of course try Borscht (keep in mind, its Ukrainian, not a russian dish, its a soup with beets) – goes well with sour cream. Also to me Ukraine means Booblick (or almost like bagel but with larger hole inside and with different taste of the bread) – was hard to find but local Billa was selling booblicks easly mornings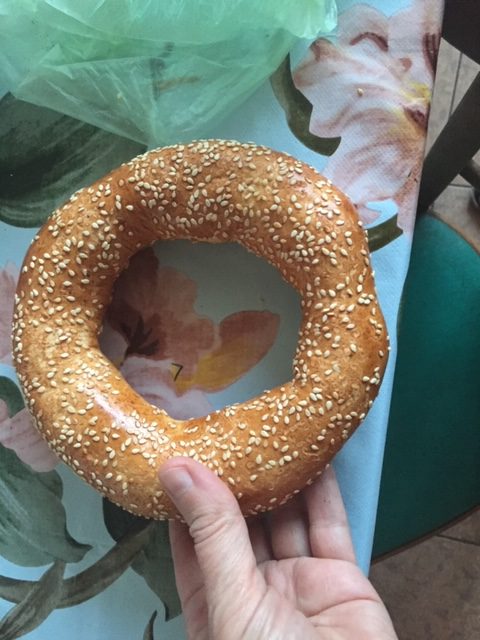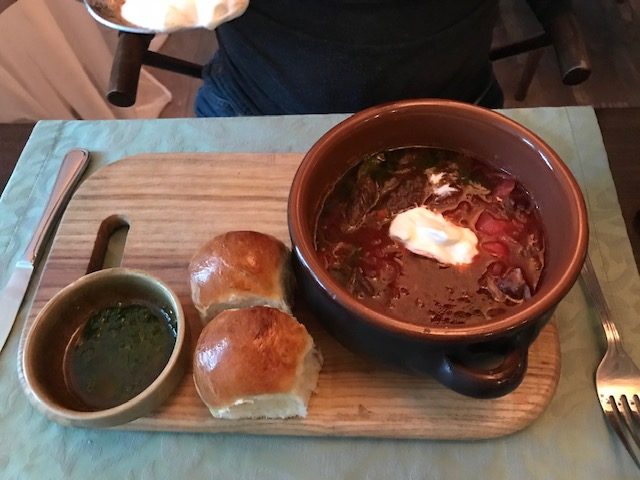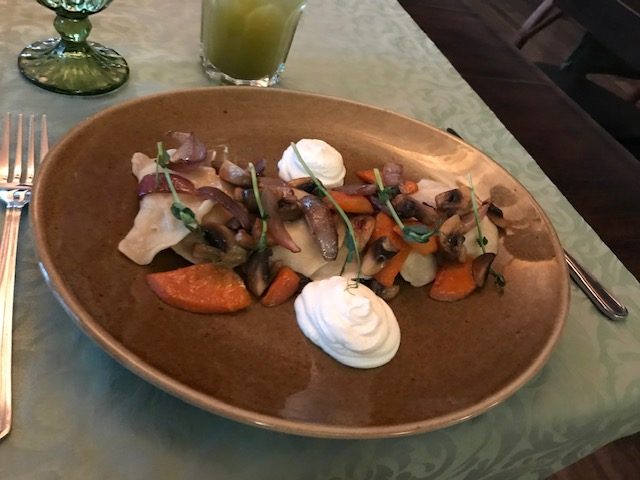 Where to eat; everywhere. Ukrainians love to cook and do that well. We found a very small Tatar restaurant which served amazing food next to Khreschtik, and we visited there often. We paid 30-40$ USA for lunch for 6 with Coffee no alcohol. Depending where you eat prices vary, but overall restaurants are much cheaper than in Canada or USA.
What to eat – give it a try, try anything. Perogies are nice, we also had a meter long pizza which IMHO was better than any pizza in New York. Coffee tastes much better than in USA. There is no Starbucks in Kyiv but there are fake starbucks places – overall coffee is way better and done with love in Ukraine. Ukrainian word for coffee is kava BTW.
Andreev church and walk along the hills so you can see Dnieper river (the river which gives the water to the whole city, than the water is cleaned up and released back to the river, so make sure you BOIL the water or use filtered one).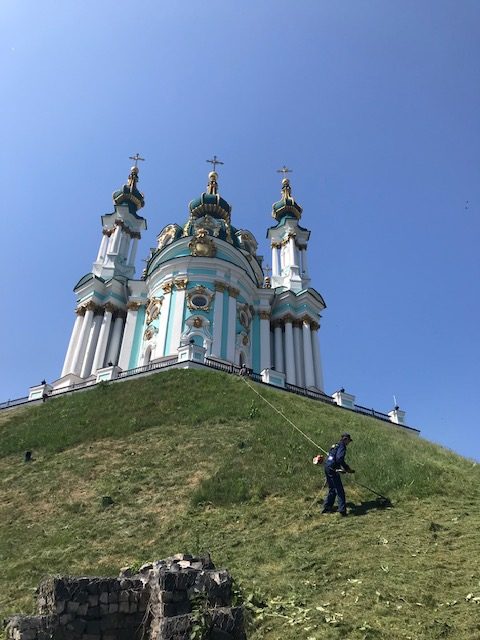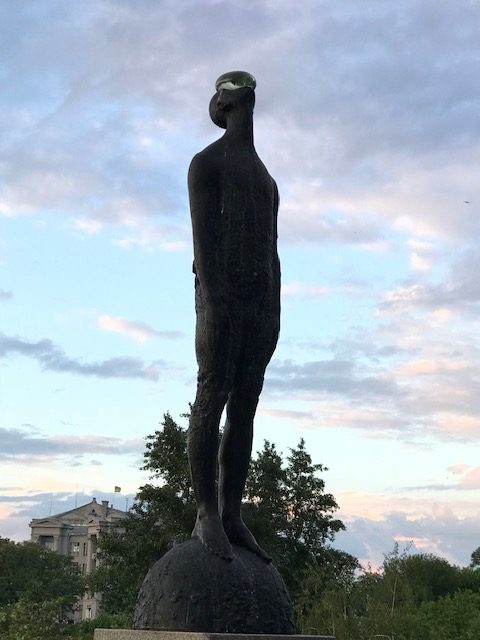 I have to say as a child I always liked circus and I took my family there this time. Ukrainian circus is a permanent building and it features acrobats, animals including wild ones and domestic, clowns etc. Overall it is an experience (albeit in modern world it is often frowned upon) – it is worth checking as it is one of a kind event like nowhere else. To stay true to my love to animals – all of them were clean and well fed, and none looked abused or unhappy. Lions and tigers included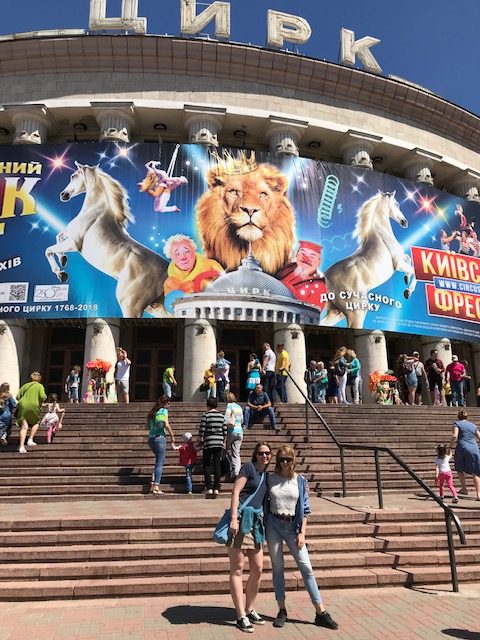 Our next stop was Lviv (Lemberg in German, Lvov in Russian ) – a city on the western side of Ukraine, more catholic than orthodox like Kyiv, more compact with its narrow streets, trams which wait for one to pass because sometimes its one way and endless narrow sidewalks and cobblestones. No metro in Lviv, so trams it is, and often hard to get everywhere.
But first, unforgettable train experience.
Trains have compartments and we bought he whole one (4 beds) for 3 of us. It was not that expensive (I think return for 4 seats were 120$ canadian but dont quote me on it). Passports are required to purchase tickets and yes, you can buy them online but than your bank will call you to check within seconds of the purchase 🙂
Trains have toilets which depends on how old the train is – can be either hole in the toilet that you see train trucks thru or more modern toilets which keep the waste in. We experienced new train on the way there and old stinky one where we kept our morning pee to ourselves until we made it home one (that kind of experience). you pay extra for sheets and blankets and pillows and for tea.
Tea on the train is a must try. It comes in the glass with metal holders. You cant find that kind of tea anywhere – so make sure you get one.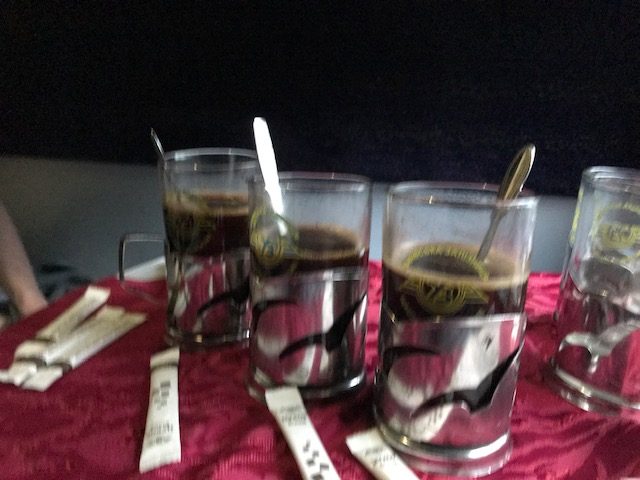 Lviv – Old city, gorgeous city, prepare to walk a lot on the cobblestones, great coffee (better than Kyivs), great food. You probably wont hear a russian word on this city because it is more western. Pictures below – the main square is really a square with possibility to climb up the stairs to see the city. There is an old pharmacy museum which can show you how they compounded drugs in 1700dth. Gorgeous museum of furniture. Lots of "coffee mining" museums (just to clear it up – coffee growth on plants and is not mined but I still think its great to visit because its fun – and two of my buddies totally had fallen for mining coffee – they even give you a helmet to stay safe in the mine) – but where else can you visit coffee mine???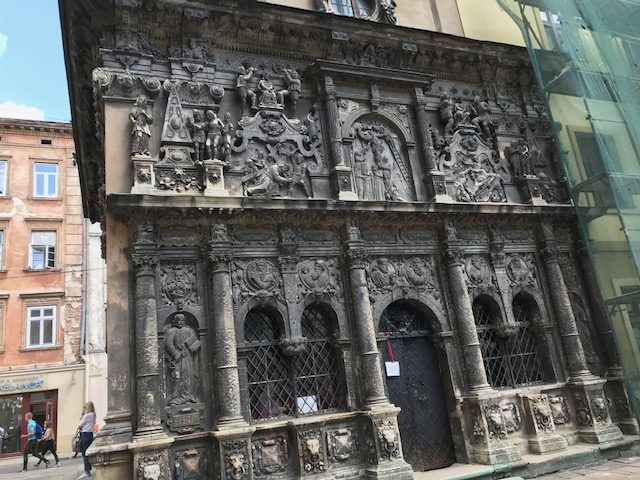 Opera house – replica of Vienna opera and amazing inside too (you cant take a tour inside)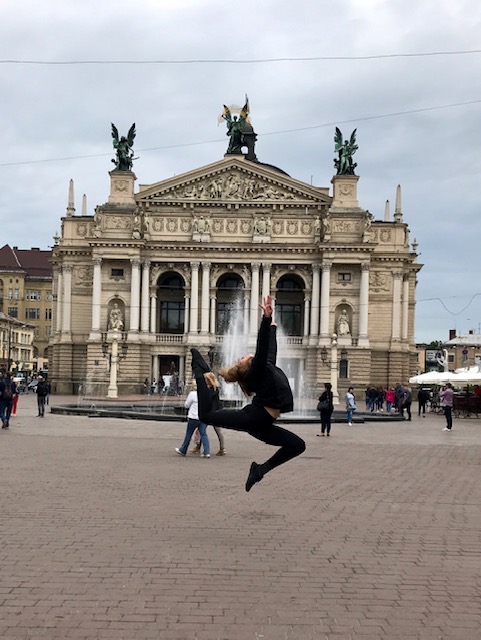 Churches in abundance – with catholic, orthodox, muslim and even some Armenian (whatever it is) – amazing…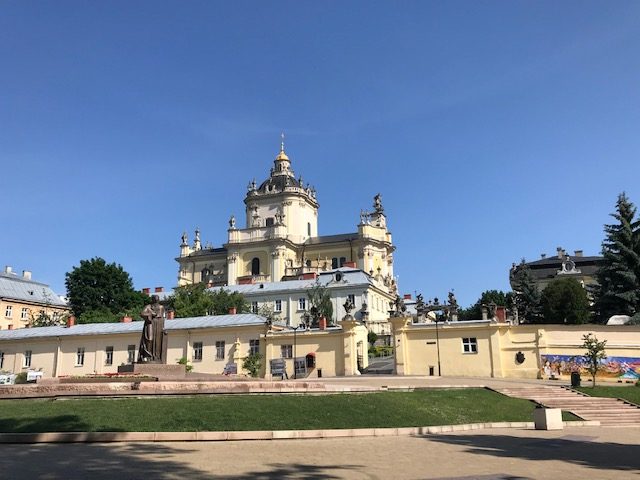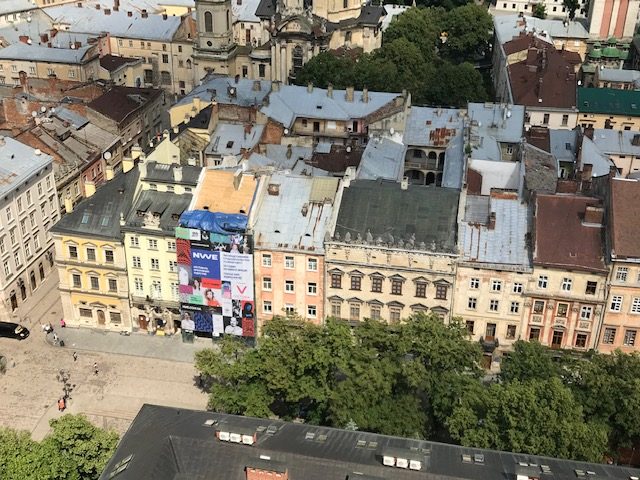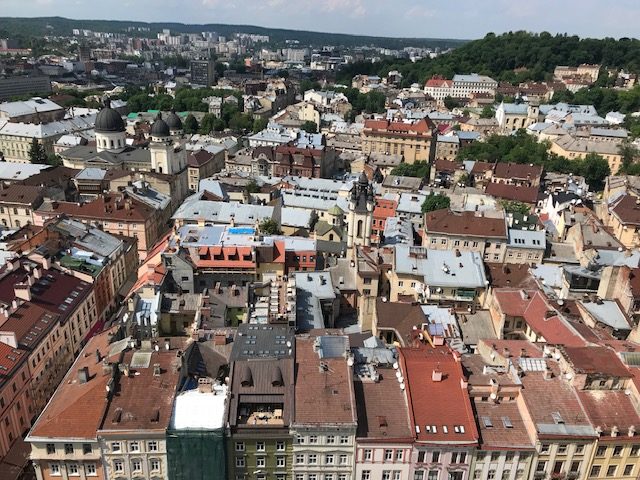 Food – you will find lots of Georgian, Armenian, Ukrainian food in the centre of Lviv – try Hachapuri or any kind of cheese baked buns – they even make buns with egg inside. Yumm!!!!