This page is an FAQ for colors and patterns. I find that people struggle with it so here it goes in easy terms and pictures.
Ragdolls are colorpointed cats so always have blue eyes. they can be dark blue or light blue but they MUST be blue. If someone sells you a mink or solid or sepia "Ragdoll" with eye color other than blue its NOT an accepted color in the breed.
Ragdolls come in seal, blue, chocolate and lilac colors as well as tortoiseshell and red. All those colors can also have tabby markings on top and that adds "lynx" to the name, so seal point ragdolls with tabby markings will be called "seal lynx" Ragdoll. Interesting enough tortoiseshell Ragdoll with tabby markings is called "torbie". Tortie and torbie can be seal or blue or chocolate or lilac. Just FYI we dont breed any lilacs and chocolates or lynxes at the moment.
On top of color comes a pattern. Ragdolls come in 3 patterns – colorpoint (no white), mitted (with mittens and boots) and bi-color with inverted V on the head and mostly white legs and saddle of color on the back.
Please note those are SHOW quality cats, where pattern means a lot, in reality when we sell pets the pattern may not be as perfect.
Below are pictures I am gathering from my lines with colors and patterns.
Color: seal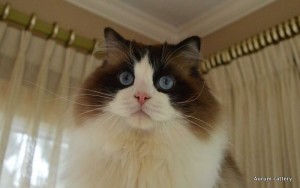 Dont look at the pattern yet, but color on this cat, almost dark rich brown, is called seal. We are talking dark color only. Ignore white. This is Goofy, our former stud boy Ragalong Coastal Prince.
Color: blue: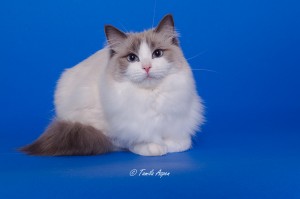 This is blue color – it looks almost grey, it is our former queen DGC Hugaragdoll Tuckleberry – she produced one of the best kittens in Hugaragdoll lines. Again ignore white, we are looking at the color of the points on the ear and tail here, its BLUE.
Color: chocolate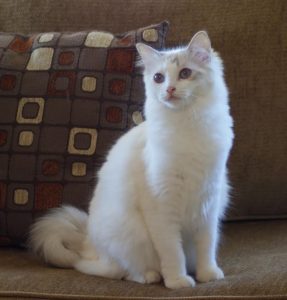 This is Hugaragdoll Brandy of Kasseldolls, chocolate lynx bycolor female. You can see burnt sugar color on the tail but its very light. Chocolate and lilac colors are dilutes, they can be literally light in color for a long time. Often the colors dont appear by the time kittens go to their new homes, and it may take up to 3 years to appear. To me chocolate looks like burnt sugar on the ears of the kitten. At the moment WE DO NOT produce any chocolates.
Color: lilac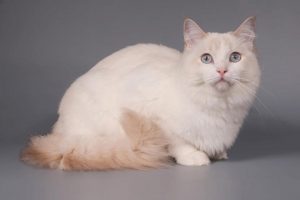 This is adult female Hugaragdoll Nikol, currently living in Ukraine. She is lilac bicolor lynx, but again look at her tail, its almost pinkinsh light grey color, kittens born white and stay white for 9+ month with just hints of color on them. We no longer breed lilacs in our cattery albeit some of our cats are carriers of chocolate so may get odd lilac kitten here and there.
Tortie (seal – the same cat at 6 month and 8 years of age)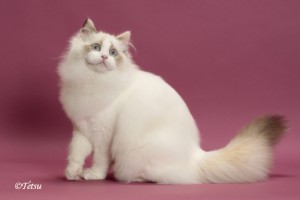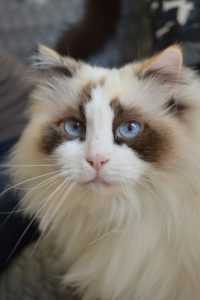 This is our resident altered female, SGC Hugaragdoll Peaches and Cream. Pictured at 6 month and almost 9 years of age here – you can see red/cream mixed with seal on her. As a young kitten you basically get lighter patches of red almost looking like white and as cat matures it gets darker. You still can meet Peachy when you visit our home.
Tortie (blue)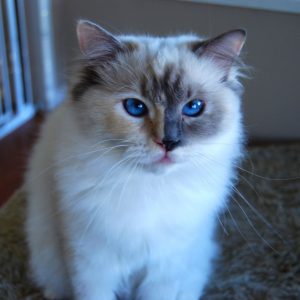 This is blue tortie (also called blue cream) Regencyrags Maisey of Hugaragdoll. You can see red color mixed in with blue here.
Red:
This is a pet Hugaragdoll Theodore, he is red bicolor and next to him is a pet kitten at 8 weeks of age. Note even red Ragdolls have blue eyes which is a spectacular combination if you ask me. Said that, red males usually sell slowly, because like with lilacs, colors are not showing up easily when kittens are young so they look all white. This is a mature adult, it took him years to get this color. He is a full brother of SHC Hugaragdoll Peaches and Cream above.
Lynx:
This is WCF International Winner Hugaragdoll Diego and he is here pictured as a mature adult. He is seal lynx point – there is no white on him, and you can clearly see the stripes (tabby markings) on top of his seal color. Also note the nose leather is pink and there is outline of white around ears end and around eye.
Patterns:
Colorpoint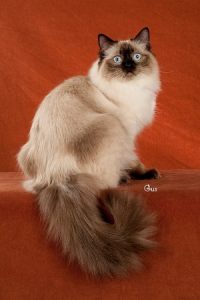 This is Hugaragdoll Genevieve, a seal point Ragdoll female. You can see she has no white anywhere, cat looks like "old siamese" and many people perceive this color as a color of siamese cat. Its in fact seal point Ragdoll. Genny lives in Richmond in the family of our friend Mark.
Mitted:
Seal mitted:
This is CH Kasseldolls Sir Lancelot, a.k.a. Lance. he is a seal mitted male pictured at 9 month of age. His eye color was so blue you dont see it on the dark background. See the white chin and white paws on the boy – he is mitted.
Blue Mitted: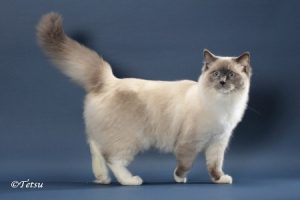 This is CH Hugaragdoll Sky Rocket, he is blue mitted Ragdoll. See the white chin, white paws (mittens) and white boots in the back. He was 25 pound male when he grew up, on the picture he is 6 month old. He lives in Maple Ridge as a pet, he was our breeding male in the past.
Pattern: Bicolor
Seal bicolor: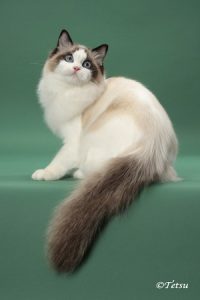 This is IW SGC Regencyrags Dolley Madison – a cat which gave our lines its look, its full muzzle and its wonderful eye color. Dolley lives in Coquitlam as a loved pet after breeding carreer.
Blue bicolor: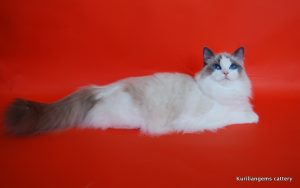 This is CH Hugaragdoll Sparkle Plenty, a blue bicolor daughter of Dolley. She was a short term breeding female in our home and she is currently living in Coquitlam as a pet.
Seal lynx bicolor: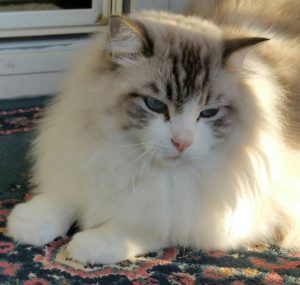 This is Hugaragdoll Oscar, he is a son of SGC Hugaragdoll Anastasia whose picture in on the top of our web site. He is seal lynx bicolor – do you see how tabby markings mix in with the color. He is pictured as a mature adult here.
Blue lynx bicolor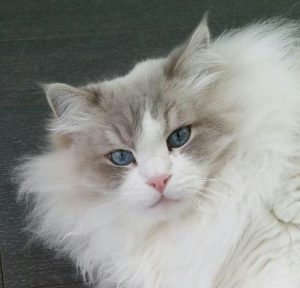 This is RW (multiple times) SGCA Hugaragdoll Milo – he is a blue lynx bicolor pictured here at age 7. You can see slight tabby markings on his forehead. Milo lives along with his buddy Toby at our friends house and he visits Oscar pictured above for play dates.
Contact us at aurumcats@gmail.com for more information
all pictures on this page are copyright Aurum cattery 2015-2018
Breeding Ragdolls since 2006