I think the idea of going back to have simpler yet more exciting life came to me first when I realized we are so tired of routines and life goes on and every day is just the same old same. Or maybe it was by hubby who, according to Ukrainian saying decided to stick to the rule that every real man should do at least 3 things in his life – plant a tree, have a son and build a home. He was done with first 2 but did not build a home (yet). Slowly the idea of giving it a try started to materialize and we did a step 1 – purchased a land!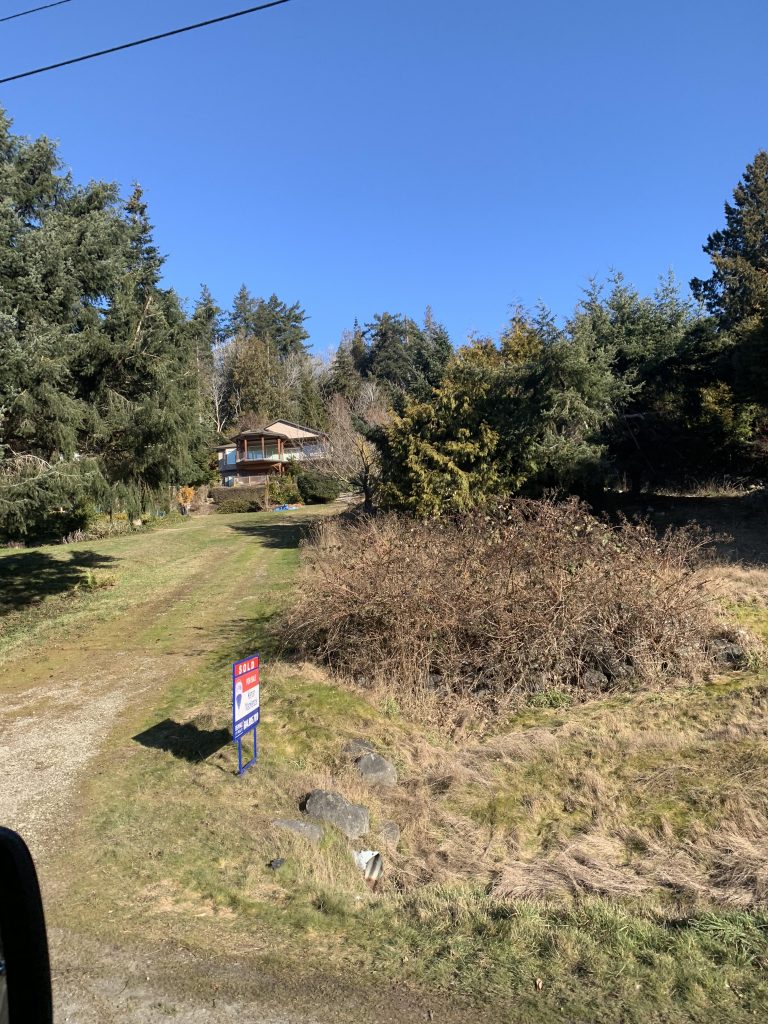 Now I will tell you – that we were as unaware as it can be with what it entails. We naively thought that banks will be interested to give people a loan to build a home, which is not really the case. In any case, we did buy the land which was just across from the beach in Sechelt BC – there was a highway and one row of houses between us and the ocean, kind of a great place to build a new home.
So with plans in hand we quickly realized what a huge amount of work building your home from scratch is. First of all, in BC Canada you need a licensed contractor to build your home – while you can go and get a license yourself after completing the course or winging the exam, you will have to deal with everything yourself and of course living far away makes it really hard to do. So we opted to pick a local contractor who can actually create our home for us.
We went with HWH contracting for multiple reasons. If you know me – I do a lot of interviews of people I can work with and what I found is – in construction world people say they will get to you later, and 90 percent of them just dont. Or … they want to build the home they are comfortable with – not the home you want (so what is the reason you build than, to have the same home they already had? and not the home you want?). Some are quite fast to provide you with THEIR plan and than slap a price sticker and also advice they want ALL the costs to build the home to be put into separate account they will draw from during construction which for us meant we had to upchuck a giant sum of money upfront (which of course we did not have).
After talking to banks and financial advisors (majority of those in the bank have no clue what is involved in building a house from scratch and tend to give you wrong information) we finally realized we have the following options:
have all the money in cash to build the house (not our case)
take money from secured line of credit (secured by our current house) but the amount banks give you would not be enough to complete
apply for a building mortgage which has a very high interest and includes lots of paperwork
sell current home and build a new one
rent current home and try to make ends meet to build a new one
sit and wait till something changes (which again is not the case)
With that in mind we opted for 4. because in the times of global pandemic it seemed logical to have less risks and debts and with real estate market in Vancouver Lower Mainland being on all times high it is probably possible to fully finance the new home and land by selling in our area. Yes, it renders us virtually homeless but we have a small recreational trailer we can live in or ultimately can rent *albeit with 2 dogs renting short term might prove quite pricey.
While we were ironing out our financing options (keep in mind we arrived to Canada with 4 pieces of luggage and about 2500$ for a family of 3 and never asked for any financial aid from the government), we were working on architectural design of our future home. I warn you, it takes a lot of time to imagine what you want and to make it work. Our contact at HWH, Paul, was amazing. He listened and convinced and adviced and yet did everything like we asked. We went from top floor and than found out we will be benefitting from the detached garage because that meant we can have house higher on the property which gives better view, which brought us to the point of having "extra" space where garage would otherwise be, as part of the living area. Living next to the ocean means you want to have as much view as you can, being pre-retirement means you want to have the least amount of stairs to conquer, and being me means I *finally* want a house where I do not have to haul all the groceries up the stairs to the kitchen! Yep, in every house we lived I always had kitchen on the top level, and I am really tired of carrying groceries up all the time. After second floor (which has entrance so no more hauling groceries up the stairs, there will be NO STAIRS to the kitchen and the level of garage is the same as a second floor) we went to the first floor and ended up designing 1 betroom suite there for just in case. We thought that suddenly that garage space became available and with 3 adult children we thought maybe we will have some of them visiting and that will give us all space. On the other note I thought if we ever need in home care – we will have a separate space with kitchen and a bathroom for it. And of course we will have a guest suite for all those friends who patiently follow our progress of building and waiting to come and visit.
Finally after going back and forth our house plans were complete and the waiting for engineering permit and other paperwork began.