What we do for our customers?
Giving us your 400$ deposit you secure the kitten from the litter. The deposit is non refundabe but is transferable to the next available kitten, if you do not like the one you've chosen (first by pictures and later on at visit at 9 weeks of age). If you choose to come and visit, we will try to accomodate you, however we are a very busy family with animals and children to care for. The visit is by appointment only and you can see the baby kittens only after they had their first set of shots (after about 9 weeks of age). Our kittens do sell very early – usually I just post them on the web site and I get 10-15 emails of people who wait. So reserving your kitten early is a key. You will be provided with semi-weekly emails and pictures from our cattery while kitten stays with us. We will gladly provide a copy of your kittens' pedigree as well as their registration papers.
Your kitten(s) will arrive to your home at around 12 weeks of age, neutered/spayed and with 2 sets of shots.
We will answer all emails and you can request a call via email. I no longer post my phone number on the web site – the reason is – I prefer email to have a record you contacted us. I do not remember people calling, I dont remember their names, in fact I often don't even pick up the phone because I loose it all the time around the house. Email me if you want to chat and we schedule it.
Fact: people which ask us for a visit when we don't have any kittens and our cats are either expecting or taking a break from breeding never buy… I find its very good for you to visit a cattery but cattery is our home and we have life too so when we don't have kittens I don't do any visits. Sorry. In 10 years we rarely had anyone wait that long to purchase a kitten which is not even born. So forgive us but we just have extra time to spend with each other rather than accommodate visits when we don't have any kittens for sale.
What do we do for our cats?
We are closed cattery which means
None of our cats are allowed outdoors, however they have secure outdoor enclosure.
We do not provide stud services to other catteries.
Our kittens and cats are regularly checked by our veterinarian (we can provide phone number upon request).
We do not keep boarding facilities in our cattery – if you return our kittens/cats, we will gladly accept it or more often help you  find a suitable home for them, however if you need temporary boarding for your kitten, we can provide addresses of kennels in our area which we used in the past.
We do not use services of kennels ourselves for health reasons, in case we have to leave our cats, we hire professionals to stay with them. We do have our customers giving good references to Cat utopia and Phat Cat Inn cat kennels, in fact Phat Cat Inn had our retired breeding cat, Sparkle, as a poster kitty for their services for a long time.
We breed our queens approximately once every 9 months.
We retire our breeding cats after 5 years on a breeding program. We rarely keep boys breeding longer than a year or so.
We show our kittens and cats until the highest possible ranking is achieved at the shows.
We do feed organic raw meat cat food to our cats, so I wont be able to tell you which commercial food is the best – IMHO there is no good dry food on earth which is natural for cats.
Our cattery has a "no de-clawing" policy.
What we provide with your kitten when you come to pick it up?
You will require a small carrier (please let us know ahead of time if you require us to purchase one for you). A written contract that you must sign regarding keeping the cat indoors, no de-clawing, providing regular vet checks and vaccinations, as well as providing nutritious food and care. We will provide a health certificate together with all shots and dates they were done. We will spay and neuter all kittens which go to pet homes, no exceptions. You will receive samples of food. We will provide some toys you kitten enjoys most to take home.
What are the prices for your kittens?
Kitten price starts at $1200 and includes spay and neuter, 2 sets of shots, deworming, contract, registration papers. Show quality kittens sold as pets start at $1300 including spay/neuter/shots/deworming. Deposit for the kitten is $400 and will count towards the purchase price.
Show and breeding quality kittens will be discussed based on quality. Shipping is not included in the prices. Paperwork for long distance shipping is also not included in the price and is paid extra.
Please note my kittens cost more than some other catteries yet I dont have problems selling them. We feed organic raw meats to all our cats and kittens which is about twice the price of commercial foods. We have a very special arrangements for our cats. We do not cage. Our cats roam our house. We do show a lot. We do not medicate on the first signs of disease, we test our cats and kittens if necessary and treat the disease not the symptoms. We pick up our future cats for breeding in person, I fly in and pick them up, I no longer ship, it all cost money and its not cheap. I dont go down in price and my famous words are "if you want to negotiate, I will negotiate up". In 10 years we havent' made any profit on breeding cats while showing them, so asking me to lower the price is not reasonable but I will gladly hike it for you.
What are the colors of kittens and which colors are available?
Ragdolls come in different colors and it is hard to tell when kittens are small, what color they are. They are all born white. Later on some kittens develop colors very quickly and some take time. So when we say 'we have a bi-color', at age 5 weeks it might turn into a seal bi-color the next day! It is not that we try to trick you, it is mother nature playing with us!
We breed all the patterns and almost all the colors. Seal and blue are main traditional colors.  We also have torties, creams and reds. In regard to patterns, we breed all possible patterns: bi-colors, colorpoints, mitteds. At the moment we do not have the ability to produce lynx kittens.
How do we contact you and arrange viewing of the kittens?
You can email us and we can discuss the time of the visit. Please note that we require that you do not visit any other cattery for 48 hours prior to the viewing of the kittens because other kittens might be sick. If you own the cat already, please tell us and we will ask you to wash your hands prior to handling our kittens.
Kitten is guaranteed to you if you put 300$ deposit on it. If, for any reason, you decide not to put deposit there is no guarantee that this kitten will be available to you later.
Please note that young kittens are very susceptible to various diseases and hence we do not show them to the customers until they get their first shots. This usually happens at around 9 weeks of age. There is absolutely no exceptions to this rule. After all, you do not want your kitten to get sick! We however will provide pictures on weekly or semi-weekly basis.
When is my kitten ready to go?
Different kittens behave differently and on average most of them are ready to go by about 12 weeks or 3 month of age. By that time they will have two sets of shots.
Do kittens know how to use the litter box?
All our kittens know how to use a litter box. However since they do not know the location of the new litter box in your house, they might need a little help. When you arrive home, make sure you kitten knows where the litter box is located. Sometimes it is helpful to place him in the litter box and scratch a little bit of litter – they will recognize the sound and decide to use it. If you saw your kitty use the litter box once, they usually have no problems in the future.
Our cattery uses Pine Pellets and Swheat Scoop as well as Worlds Best Litter. All of those are biodegradable. Please note we do not recommend automatic cleaning litter boxes as well as toilet training of your kitty at young age. You can however try to use them later when your kitten comfortably using litter box in your home.
We have a dog – how to introduce our new kitty?
I will answer this one with one word S L O W L Y.
All our kittens are exposed to a dog. However your dog is different – so take it slowly. Keep kitten away from the dog for some time. It can takes weeks or months for timid kittens to get used to new dogs. Most of the ragdoll kittens however are pretty fearless of dogs and figure our quite fast how to handle dogs!
What food do I need to feed my kittens?
This question is a pet peeve… The simply answer is – it is up to you, however you should not change the food your kitten was given during adjustment period, i.e. during first month after kitten arrives to your home.
After the pet food scare and after one of our kittens almost died using the dry kibble food we provided for all our cats and kittens for years, we tried various options in our cattery. Unfortunately we could not find one food which suits all, us humans included. While some brands, like Wellness Core and Orijen, had quite a lot of proteins and no gluten, some of our cats would not strive on it. One of them actually developed allergies and one was having constant tummy problems.
We ended up trying raw food and so far we did not have any issues with it. The main advantages of raw feeding are – the food is natural to cats, as they are obligatory carnivores. Cats are not supposed to have food available at all times, and they appreciate you more when you provide food for them. Their coats and general health is much better. Their waste does not smell as much (comparing to feeding Innova Evo, the waste does not smell, period, while when you feed dry kibble one trip to the litter box calls for evacuation of the whole house). There is much less medication that you need to administer to young kittens during the time they adjust to the food after nursing exclusively, most of the time they just run for the meat and love it. Our vet bills dropped significantly, and allergy/upset tummy problems were resolved easily and without medication.
We recommend 3P raw frozen food which is sold at Tisol, Korna and most of the small pet Stores. If however you decide not to continue with raw feeding after initial adjustment period, we also recommend any canned food which has no gluten and minimum carbohydrates, like Wellness brand, Evanger's 100% meat classic line, EVO 95%, Ziwipeak, Eagle Pack… For those of you who do not mind preparing food by yourself, you can either use our source of meat OR use TCFeline dry supplement which is just added to the ground meat. See http://tcfeline.com/ for more information, this is a local company a which spent years researching nutritionally balanced food for cats. And yes, we use it ourselves – buying meats from Costco (turkey) and Hills Meats in Coquitlam (Kangaroo) and mixing in TCFeline powder with chicken livers inside it is what we feed.
What do we need to purchase to make our kitten happy in the new home?
We recommend you purchase a kitty carrier – make sure you have one big enough for the kitty to grow. Scratching post or cardboard scratch box – to make sure you furniture stays unscratched. We also recommend a cat tree, especially if you have more than one cat in your household or if you own a dog.
We are afraid that kittens will scratch our furniture – what can we do?
Of course, every kitty is different, however as cat owners we think that cats are trainable. Kittens in our house do not scratch furniture, so if they start doing it your home – you should gently show them where is an acceptable place to scratch. Some kitties like scratch boxes which are cheap and replaceable. Some prefer sisal posts, some are happy with carpet covered cat trees. Whatever you do – remember that you owned the house before kitty moved in – so stay firm on your rules!
Please note that according to the contract you sign with us, you are not allowed to declaw the cat.
Some people want us to guarantee that kitten wont scratch furniture. I always answer – its a cat. If you dont want it to scratch, get yourself a snake. Sorry, its in tчe nature of the cat to scratch, and its up to you as an owner to provide the cat with the ability to do that.
We are going on vacation – what to do?
It is very considerate of you to think about it ahead of time. Many people are worried about leaving their cats alone at home, however you should understand that cats do not like changes and it is much easier for them to accept your absence in your home comparing to your absence away from the home. Try to find a neighbor who is willing to come to your home and feed and play with your cats while you are away. Or find a responsible teenager willing to do the job. If you are leaving for an extended period of time, we can recommend a good kennel in our area, however we found out that some cats do not like to move to kennels. You can also try your vets office – they often take cats for a week or so to accommodate your vacation.
The places we recommend is Phat Cat Inn and Cat Utopia. We never boarded with them but our kittens did by their owners and Sparkle is even one of the cats on their advertising campaign.
Do we have to neuter our kitty?
Yes, our cattery has a policy that all kittens are spayed and neutered before they leave to their new homes. If you have any problems in regard to early spay and neuter procedure, please discuss it with us. Frankly speaking its my way or no way. All pet quality kittens within last 11 years that we breed came out spayed and neutered. If you do not want them spayed and neutered, you are welcome to explore the options with other breeders.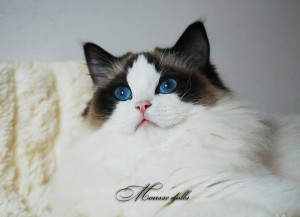 Contact us at aurumcats@gmail.com for more information
all pictures on this page are copyright Aurum cattery 2015-2018
Breeding Ragdolls since 2006