TICA Champion Hugaragdoll Neal Caffrey
no longer breeding and is in the new forever home along with his daughter.
Seal point mitted with blaze
Best seal mitted Ragdoll in NW Region in TICA in 2016-2017 season
Neal is Hugaragdoll Sophia's son. He is perfectly marked seal mitted boy with ear set we really liked and a soft bunny coat like Ragdolls should have. He loves to show yet at home he mostly keeps to himself but will run to you as soon as you have a toy in your hand. Not in your face kind of guy but loves your company. We showed him as a young kitten at 4 month and he surprisingly was selected above many older kittens by multiple judges. On his mothers side his pedigree has  5 generations of our home bred Ragdolls – from Hugaragdoll Roxolana to CH Hugaragdoll Sky Rocket to CH Hugaragdoll Tyra Banks to Hugaragdoll Gisele and than to his mother, Sophia. We plan to keep him as out main boy in the cattery. Neal loves his babies and raises his litters along with mothers, offering them help and supervision for kittens. He is never aggressive towards them or towards us – in fact we find he is a wonderful father and we are proud to have him raise his babies and be a part of his feline family for as long as kittens are here.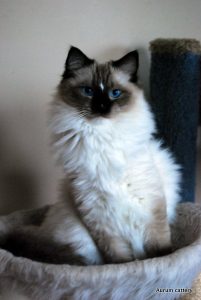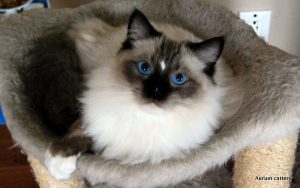 Our new  king
Regencyrags Sampson of Hugaragdoll
Seal lynx point bicolor Ragdoll
No longer breeding and is in a new home along with his son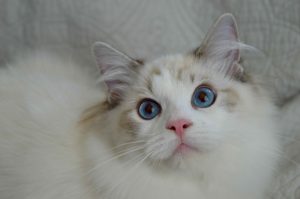 pictured at age 6 month
pictured at age 8 month
Sampson is a very friendly Ragdoll which came to us from Texas.  Sampsons father was International Winner Ragdoll Regencyrags Bravo Delighted Artiste and this line is impossible to obtain in North America. Sampson is very playful and happy fellow, always friendly and always underfoot. We can't wait for his babies in the future.
Contact us at aurumcats@gmail.com for more information
all pictures on this page are copyright Aurum cattery 2015 – 2018
Breeding Ragdolls since 2006