OMG Kendall of Hugaragdoll
seal point mitted female
Kendall left us to return back to her home cattery in London, ON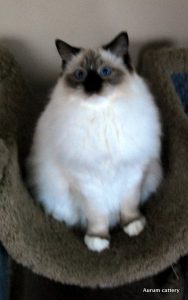 Kendall came to us form London, Ontario. She is a daughter of CH Hugaragdoll Ashley Greene and we are very happy to get the line back. On the mothers line  her pedigree is 4 generations of our home bred females and males. Kendal is a purring machine. She came here and we could hear her purring from another side of the room. She loves to cuddle, stay on our laps and is not particular which lap it is – main thing its a warm lap to purr in. She melts in our arms like she is a real ragdoll. She gets so excited that when you pay attention to her – her eyes go round. She also puffs up so on all pictures she looks like giant fluff ball even though she is actually quite slim. She is an excellent mother and I am happy to say her lines are now shared with other catteries. Something to be proud about with generations of Hugaragdoll babies in the pedigree between her and her partner CH Hugaragdoll Neal Caffrey.
 Hugaragdoll Cyan
Blue point female
Cyan currently lives with our fellow breeder in Colorado Springs, Co, cattery Holmestead Ragdolls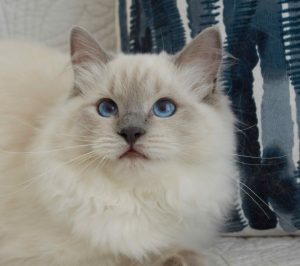 Pictured here at 5 month of age
Cyan was bred by us here in our cattery. She is a daughter of Regencyrags Maisey of Hugaragdoll and Longfellow Charlie. She is a very large female and she purrs the loudest in our house. She has lots of coat and is very playful but picks her favourite people. She has very nice blue eyes and very fluffy tail even at the young age. Her name was given to her by my coworker who reserved naming rights for her at a very young age. Yes, she is called Cyan like a color of her eyes.
Regency rags Justina of Hugaragdoll
Seal bicolor female
Justina is currently in the pet home alone with one of our Hugaragdoll kittens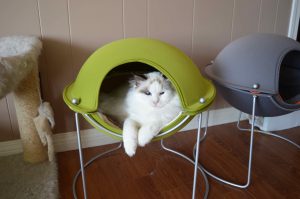 Pictured here at 6 month of age
Justina is a daughter of RW SGC Hugaragdoll Sebastian which was bred by us here in our cattery and a grand daughter of RW SGC Dolley Madison so her lines are very important to us and very famous around the world. Her half brothers and sisters are International Winners in TICA. She has wide face mask which makes her eyes stand out a lot. She is friendly and very laid back.
Contact us at aurumcats@gmail.com for more information
all pictures on this page are copyright Aurum cattery 2015 – 2018
Breeding Ragdolls since 2006